Publication#2 - SAMIRA AHMADI GHOTBI: THE TRACE
Friday 4th May 2018, at 7:00 pm
SAMIRA AHMADI GHOTBI
THE TRACE

Second publication : Friday 4th May 2018 at 7:00 pm
With the contribution of Annalisa Bertoni,
researcher in literature
At the Sadi-Carnot Stadium from the 9th  to the 28th April 2018, the Iranian artist Samira Ahmadi Ghotbi will do the second publication, with a public restitution on Friday 4th May 2018 at 19h.
Samira Ahmadi Ghotbi has been invited to contribute to the research as from the notion of the trace because of the unique work that she has deployed via drawing, writing or video practice on the subject of traces and memory. Annalisa Bertoni, literature researcher, will develop from the work by Samira Ahmadi Ghotbi and the subject of the trace, an analysis of form, creating links from sources of textual and/or narrative structures.
She will draw from her own research on contemporary writing (Marguerite Duras, François Bon, Martine Sonnet, Jean-Philippe Toussaint, Marceline Delbecq, Suzanne Doppelt), with particular attention payed to creative processes and the relation of literature to visual arts.
«One could define the notion of the TRACE from what I do with it in choreographic scores. To envisage choreographic writing through a deposition of traces, carries with it notions of memory, visibility, invisibility, the intelligible and the present. This practice of writing the trace comes from one of my first choreographic interrogations and is anchored in the cartographic work of Ferdinand Deligny. Trace contains activity and the traced. For myself, working in space is a compositional practice with what there is and was».
Rémy Héritier
--------------
Free entrance, booking requested
at reservation@leslaboratoires.org or 01 53 56 15 90
Sadi-Carnot Stadium
49 avenue Général Leclerc
93500 Pantin
RER E Pantin, Bus 170 / 249 to Mairie de Pantin
 --------------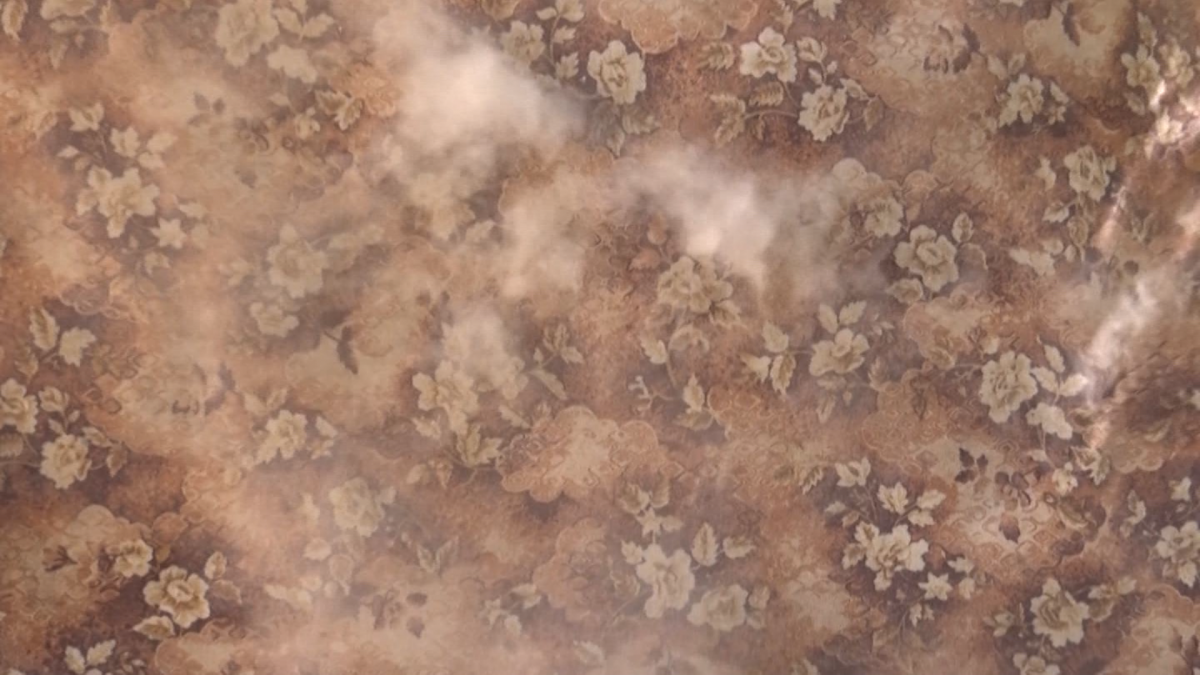 Samira Ahmadi Ghotbi, Golshan, 2017  -  Vidéo, 8'', capture d'écran
______________________
After studying painting at the Faculté of Art and Architecture in Teheran Centre, Samira Ahmadi Ghotbi (born in 1985), obtained her DNSEP at the Ecole Supérieure d'art of Clermont-Métropole, where she is pursuing her studies in the context of the research Cooperative. With care on details of the past and present, her research takes on different forms: drawing, painting, video and writing. These forms are often triggered by flaws or impossibility, and emerge from a souvenir, a relic or fragment. Her work oscillates between two destinations, Iran where she was born and France where she lives. It is rooted between these two stories, two cultures, two languages. She mixes and crosses these dualities for a new narrative which intersect with those of the personal and global, countries and people, intimate and family experiences. From February to July 2018, she is in residence at the Cité des Arts in Paris where she is working on a research project called the History of the snail, about a XVth century Persian miniature partially eaten by a snail.
Annalisa Bertoni is teaching at the Fine Art School of Nîmes and is associated member of CEPA (Culture, esthétique et philosophie de l'art / Culture, Aesthetic, Philosophy of Art) at the University Paris 1 – Panthéon Sorbonne. She is the author of a thesis about Marguerite Duras (Au seuil du texte : genèse du Ravissement de Lol V. Stein, to be published at Peter Lang publisher) and of numerous articles about Duras. Her researches are also concerning contemporary writings (François Bon, Martine Sonnet, Jean-Philippe Toussaint, Marcelline Delbecq, Suzanne Doppelt), with a specific attention for the creative process and the relation between arts and literature.