Publication#3 - JULIEN BERBERAT: THE RELATIVE SPACE
Friday 11th May 2018, at 7:00 pm
JULIEN BERBERAT
THE RELATIVE SPACE

Third publication : Friday 11th May 2018 at 7:00 pm
With the contribution of Romain Bigé,
filmmaker, writer and research visual historian
For the third publication, the artist Julien Berberat will be present at the Sadi-Carnot Stadium from the 23rd April to the 11th May 2018 and will propose a public restitution on Friday 11th May 2018 at 7:00 pm.
Julien Berberat has been invited to contribute to the research via the notion of relative space. Aided by different formats (performance, editions, drawing, text, photography, engraving), he questions the statute of the work of art, its originality, unicity or beauty thus confusing issues between art objects, artefacts and archives. Romain Bigé, philosopher and dance researcher who has just defended a thesis called  The sharing of movement. A philosophy of the gestural with Contact Improvisation  will develop in counterpoint to Julien Berberat's research a practice of relative space, related to his experience of Contact Improvisation and phenomenological thinking.


«The Relative space is a way of considering space and its four dimensions (height, width, depth, time) under perpetual change. The idea is to be able to develop meaning allowing recognition of a variation and to take that into account. The notion/process of relative space stems directly for my taste in dead reckoning navigation, be it on sea or in the air : without at least one navigational instrument the problem is to estimate one's geographic localisation or speed by establishing equations to one or more imponderables. When applied to dance, its about conceiving and making tangible the fact that there is no difference between oneself and one's environment. Which means that the notion of environment is no longer effective in my work, that in fact I should in the short term be able to do without this word».
Rémy Héritier
-----------
Free entrance, booking requested
at reservation@leslaboratoires.org or 01 53 56 15 90
Sadi-Carnot Stadium
49 avenue Général Leclerc
93500 Pantin
RER E Pantin, Bus 170 / 249 to Mairie de Pantin
-----------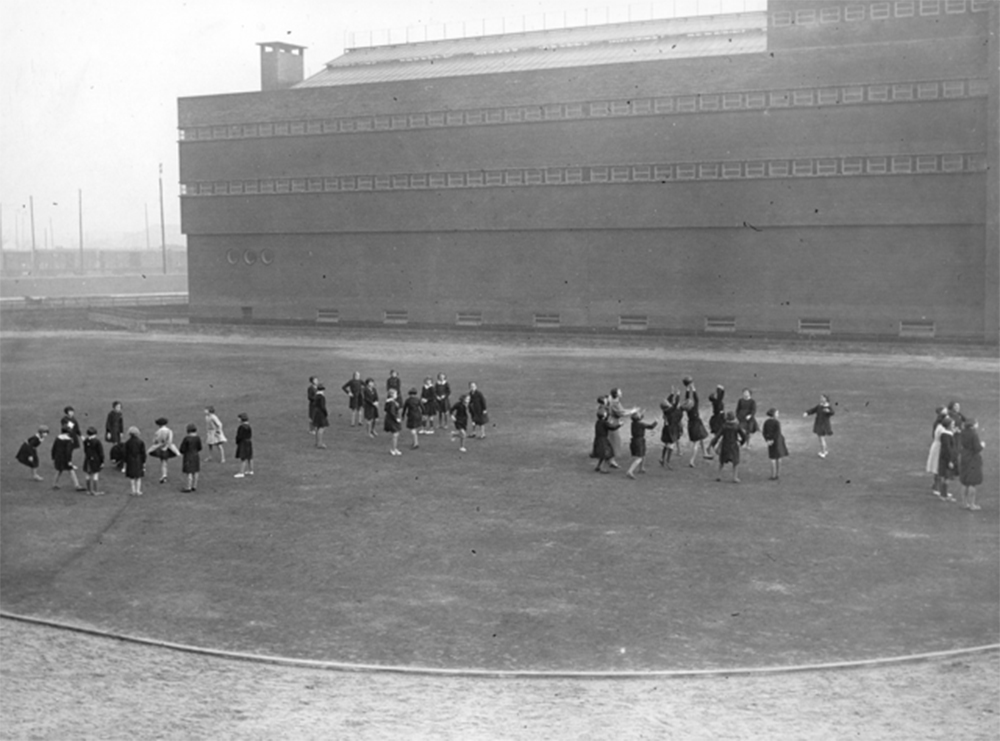 Sadi-Carnot Stadium, gymnastics class
Municipal Archives of the City of Pantin (ref. 3fi205)
 ______________________
Julien Berberat, born in 1988, is a Swiss artist graduated from the Haute Ecole of Art and Design in Geneva, (speciality Art and Action) and from the ECAL in Lausanne in Master European Art Ensemble. From his collaborations with institutions in which he trained, invitations to participate in festivals (Bâtard Festival in Bruxelles, Belluard Bollwerk in Friburg), he developed a taste for a diversity of projects (installations, engraving, readings, performance). This diversity of engagements allows for changes in his practice which forever put into question specific obedience to such and such a medium. Interested in the seizure of the statute of the museum object and its historicity, he explores the strategies of re-writing of the historical narrative via the transformation of canonic forms such as the archive or the historical photograph. From his participation in the framework of his PhD studies on a research project around the artist Charles Blanc Gatti (leader of the musicalist painting mouvement, much linked to the alpine environment), he developped an interest in the way the human being relates to mountains. This research was made in the course of a long residency at L'L in Bruxelles from February 2016 to July 2017, and is now being pursued with a project for publication.
Romain Bigé teaches philosophy and is a dancer. He trained in improvisation in the United States, then in Europe with Lisa Nelson, Nancy Stark Smith, Jeorg Hasmann, Mathieu Gaudeau and many others. He was co-founder in 2014 of L'oeil et la main, a collective dedicated to the creation of spaces and practical time around Contact Improvisation. Dramaturgist, he has accompanied many theatrical creations by the Tcheque Director Linda Duskova and has collaborated with different choreographers and dancers (Myriam Lefkowitz, Chris Aiken, Boris Charmatz, Joao Fiadeiro). Professor of Philosophy and graduate of the Ecole Normale supérieure in 2013, a Fulbright scholar in 2016, he has just upheld a thesis in philosophy and dance studies, The Sharing of Movement. A philosophy of the gestural with Contact Improvisation, directed by Renaud Barbaras in the context of the PhD Science Art Creation Research of PSL*/ENS. As researcher, he collaborates with the Labo danse directed by Asaf Bachrach (CNRS) dedicated to research in cognitive sciences on concerted improvisation. As teacher, he gives art philosophy lessons and lessons in the philosophy of the gesture in the pluridisciplinary Degree of PSL* at Paris (ENS-Mines) ; with the dancer and instructor Matthieu Gaudeau, he has created Espaces tactile, a cycle of workshops designed to build bridges between dance and philosophy.