Publication#6 - LA TIERCE: THE THRESHOLD
Friday 29th June 2018, at 9:00 pm
LA TIERCE
THE THRESHOLD
Sixth publication : Friday 29th June 2018 at 9:00 pm
With the contribution of Mathieu Bouvier,
artist, director and researcher
Present at the Sadi-Carnot Stadium from the 11th to the 29th June 2018, the artist choreographic collective La Tierce will propose a public restitution on Friday 29th June 2018 at 9:00 pm.
La Tierce, a choreographic artist collective with Sonia Garcia, Séverine Lefèvre and Charles Pietri has been invited to contribute to the research with the idea of the threshold. They manipulate objects, construct temporary spaces, all done while dancing. Mathieu Bouvier, visual artist, director and independent researcher, will bring his personal view on the space, the threshold and the dance proposed by La Tierce, supported by his reflections on a figural approach of the danced gesture.
«The threshold is a spatial zone that is constituted in relation to the different agents that model space. These agents that are constituent of space are of at least two categories: agents as fixtures like architecture and furniture, and passing agents, human beings (one can go as far as to imagine that a bush pushed by the wind enters into this second category). The threshold is a zone of influence rather than a simple limit (as one would say of the threshold of a door). Like earth's pull, the threshold is a zone which has an effect on the gravitational pull. Passing these limits one enters into another zone, another threshold, another gravitational pull. In the tangible space of dance, places are at the crossings of many thresholds and are thus subject to many gravitational pulls».
Rémy Héritier
------------
Free entrance, booking requested
at reservation@leslaboratoires.org or 01 53 56 15 90
Sadi-Carnot Stadium
49 avenue Général Leclerc
93500 Pantin
RER E Pantin, Bus 170 / 249 to Mairie de Pantin
------------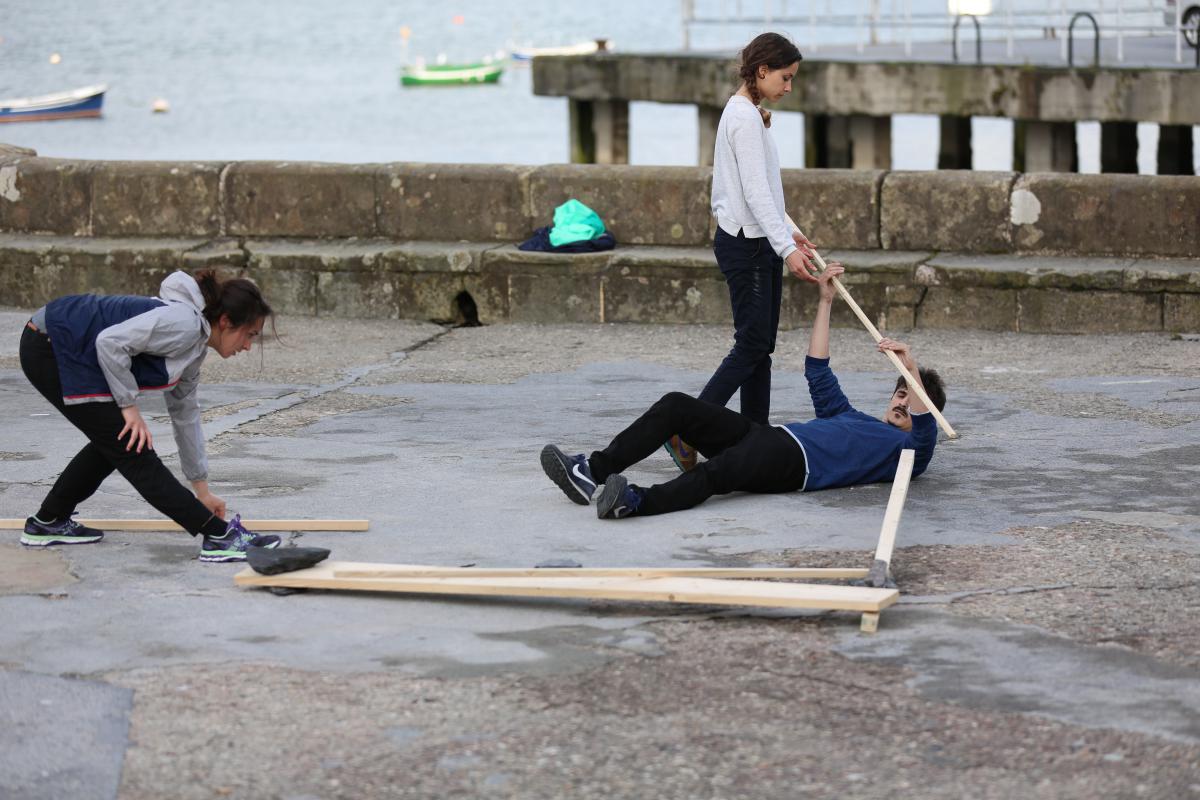 La Tierce (Sonia Garcia, Séverine Lefèvre and Charles Pietri), Extraction, création 2013  //  © Norbert Lefèvre
______________________
La Tierce is an association of choreographic artists, Sonia Garcia, Séverine Lefèvre and Charles Pietri. In Bordeaux, since 2014, La Tierce develops work questioning the writing of mouvement, envisaged as a support for the deployment of new sensitive spaces. While all the while attempting to render in-between spaces, La Tierce is concerned by the gesture danced along side emptiness, also the intimate and bodies' cavities, hailing a poetry of simplicity. In 2013, they started a triptych developing a corporal script involving moving objects (wood and stone): the performance Extraction (2014) and the piece En Creux (2014) are worked by precise action restraints in which appear notions of absence and narratives with multiple strata. Inaugural, the last piece of the triptych (2016) summoned a body at the same time figure and landscape and tried to explore the circulation of the gaze between sign and fiction. Questioning the rôle of the spectator and its possible « emancipation » by the gaze and sensitive experience, La Tierce created ECRITURES in September 2015, a performance for a public space which attempted to render the spectator as co-author. A company associated with La Manufacture Atlantique (Bordeaux) since 2015, La Tierce proposes PRAXIS, experimental evenings dedicated to research, the incomplete, attempts and dialogues with the public. During its last projects, La Tierce received the support of the Ministère de la Culture et de la Communication – DRAC Nouvelle Aquitaine, of the Fonds d'Aide à la création of Bordeaux from the Office Artistique de la Région Aquitaine, from the Région Nouvelle Aquitaine, and from the Institut Départemental de Développement Artistique et Culturel de la Gironde. In 2017, La Tierce started a three year companionship with Le Cuviern CDC Nouvelle Aquitaine.
Mathieu Bouvier is a visual artist, director and independent researcher. He graduated from Saint-Etienne and Lyon Fine Arts Schools and also the school of Fresnoy, the Tourcoing SNAC. He makes video short films in which the image is a product of speech, called, written or crossed out. He regularly attends the domain of contemporary dance, as a videographer, scenographer and playwright. Doctoral student in art at the University Paris 8, his thesis project focuses on a figural approach of the danced gesture.
http://www.pourunatlasdesfigures.net/
https://www.mathieubouvier.net/