Le Printemps des Laboratoires is a yearly invitation to the public, intended as an important moment for bringing into play and debating, in theory and in practice, issues chosen by the artists working at Les Laboratoires d'Aubervilliers. It takes the form of a two-day art operation involving debates designed as spaces for sharing ideas in various forms, along with performances and workshops. This meeting is a chance to break down the barriers between audience and artists, to roll out an unusual collection of events prioritising the experience of art and politics over their representation, the circulation and confrontation of ideas over authoritarian forms of transmission.  Le Printemps des Laboratoires is a time both to condense and develop the project of Les Laboratoires d'Aubervilliers critically and artistically and to nurture research and explore various current French and international artistic, historical and critical contexts.

Le Printemps des Laboratoires #1: "Commune, Commons, Community". This year we would like to invite you to experience the ideas of "commons", "commune" and "communities" with us.  They are terms which pervade our political and intellectual environments and our media (...)
Read the whole introduction text and participate in By The Way platform.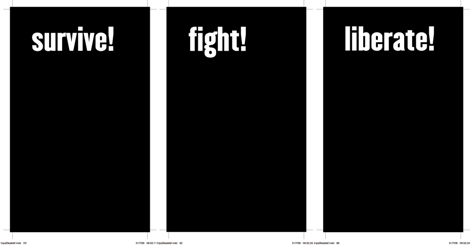 Participants
Peter Aers, pianist Alexey Asantcheeff, sociologist Marie-Hélène Bacqué, art critic and curator Thomas Boutoux (host), writer and art critic Barbara Casavecchia, Antonio A. Casilli, artist Mathilde Chenin, Cyclofficine, Michel Gaillot, Azouz Gharbi, artist Mathieu Huot, film-makers John Jordan and Isabelle Frémeaux, choreographer Latifa Laâbissi, film-maker Thomas Lacoste, journalist Jade Lindgaard (host), Myriam Lefkowitz, artist Franck Leibovici with Diemo Schwarz, artists Gloria Maso and Cesare Pietroiusti, Valérie Pihet, art curator and critic Chantal Pontbriand, Jack Ralite, Jan Ritsema, Vassilis Salpistis, S.a.L.E. Docks, Joachim Scharloth, Margaux Vigne, Sophie Whanich, choreographer Adva Zakai and students from the Studio Post-Performance by Marie de Brugerolle, ENSBA of Lyon (Romain Grateau, Ju Hyun Lee, Fabrice Mabime, Fabien Steichen et Julia Whittaker).

---------------

In partnership with Médiapart and Mouvement and with the support of the Dena Foundation and of the ENSBA, Lyon.



---------------

Picture: selections from Steal this Book, 2008, published by Castillo Corrales under the direction of François Piron and Dora Garcia, design by Alex Gifreu, based on the work by Abbie Hoffman published in 1971.