Au nom du peuple / Liaisons
Thursday 3 May 2018, at 7pm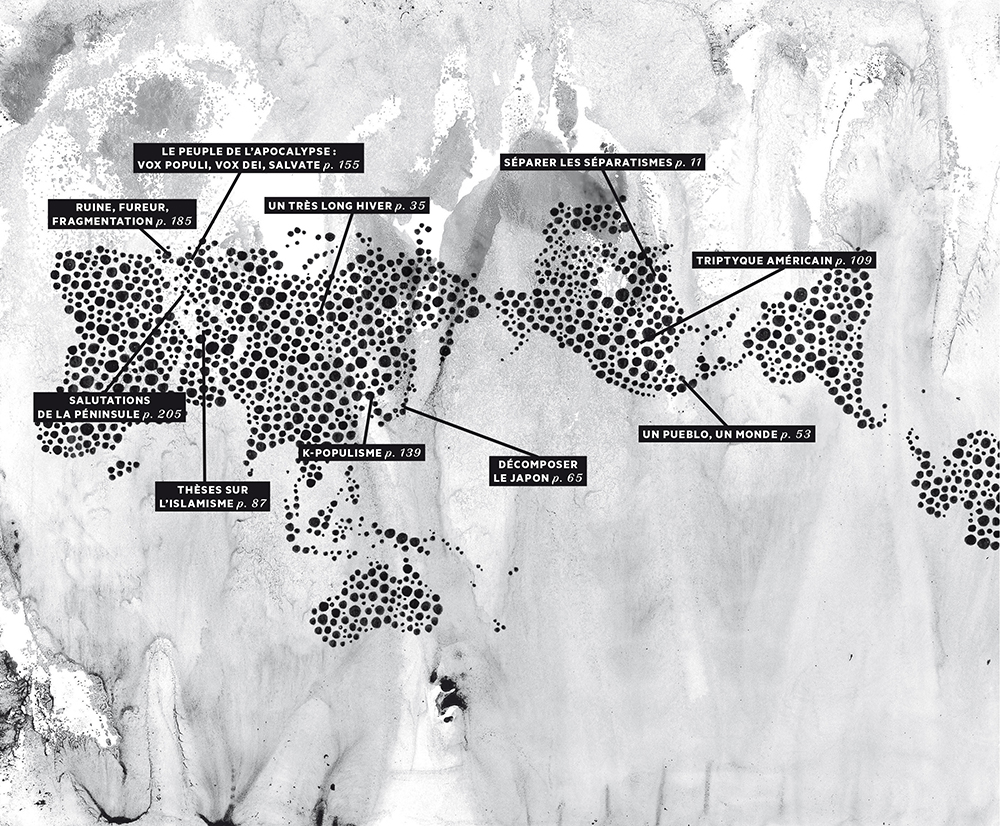 To coincide with the launch of their book Au Nom du Peuple ('In the Name of the People'), and in the context of the sixth edition of the Printemps des Laboratoires, Endetter et punir ('Get them into debt and punish them'), we are pleased to welcome Liaisons. More than a collective, less than a world, Liaisons is an inclination, a crossroads of confrontations and links, based in Paris, New York and Montreal.
Au nom du peuple, their first book offers a series of accounts and analyses of the global populist upsurge, based on the local forms it has taken in the United States as well as in France, Italy, Japan, Korea, Lebanon, Mexico, Quebec, Russia and Catalonia. Refusing to succumb to a kind of blackmail that would fight demagoguery by just giving up completely, these other forces attempt to negotiate the troubled waters of our times with radically different mind-sets. The disruption of the usual political polarisations that populism has brought about indicates, above all, the urgent need to work out an overall revolutionary interpretation of it and to make the necessary connections.
This evening will be structured around open-ended, often poetic contributions, a concert and a meal in the bar prepared by the members of the group over the course of the day.
--------------
Free admission. Reservation requested at
reservation@leslaboratoires.org or 01 53 56 15 90
--------------

« Ce qui appartient à l'océan finit toujours par y revenir, sous une forme différente. L'infini océanique se manifeste dans une singularité de formes sensibles - celle du Saint Laurent lorsqu'il s'égare dans la violence des rapides de Lachine, de la Seine qui serpente des bocages jusqu'à la Manche ou la docile dispersion de l'Hudson dans l'Atlantique, sous le regard cruel de la métropole.
Il en va de même pour les phénomènes politiques planétaires : qu'ils soient planifiés ou qu'ils émanent d'une espèce de contagion virale transmise par l'air du temps, ils ne peuvent s'imposer qu'en épousant la singularité des formes locales. Face à chaque événements qui vient menacer son ordre, la standardisation planétaire réplique à coups de restructurations permanentes, montrant par-là l'étendue de ses ressources tactiques et stratégiques latentes. D'où l'urgence, en ce qui nous concerne, de mettre en rapport les phénomènes globaux, mais aussi de lier entre elles des formes spécifiques de résistances locales et de reconstruire des hypothèses révolutionnaires situées, pouvant néanmoins résonner à des milliers de kilomètres. Pour ne pas laisser les communications transocéaniques à l'ennemi, il nous faut assumer une discussion mondiale.
La question de savoir où en serait un hypothétique mouvement révolutionnaire aujourd'hui ne s'envisage qu'à condition de se demander si seulement nous sommes quelque part. Cela débute par le sentiment d'appartenir au plus lointain, d'être liés et tenus par des forces qui nous excèdent en grâce et en beauté - pour nous ouvrir à notre commune mondialité ». 
Liaisons, Au nom du peuple, Paris, éditions divergences, 2018