Friday 8th June 2018, 8 p.m.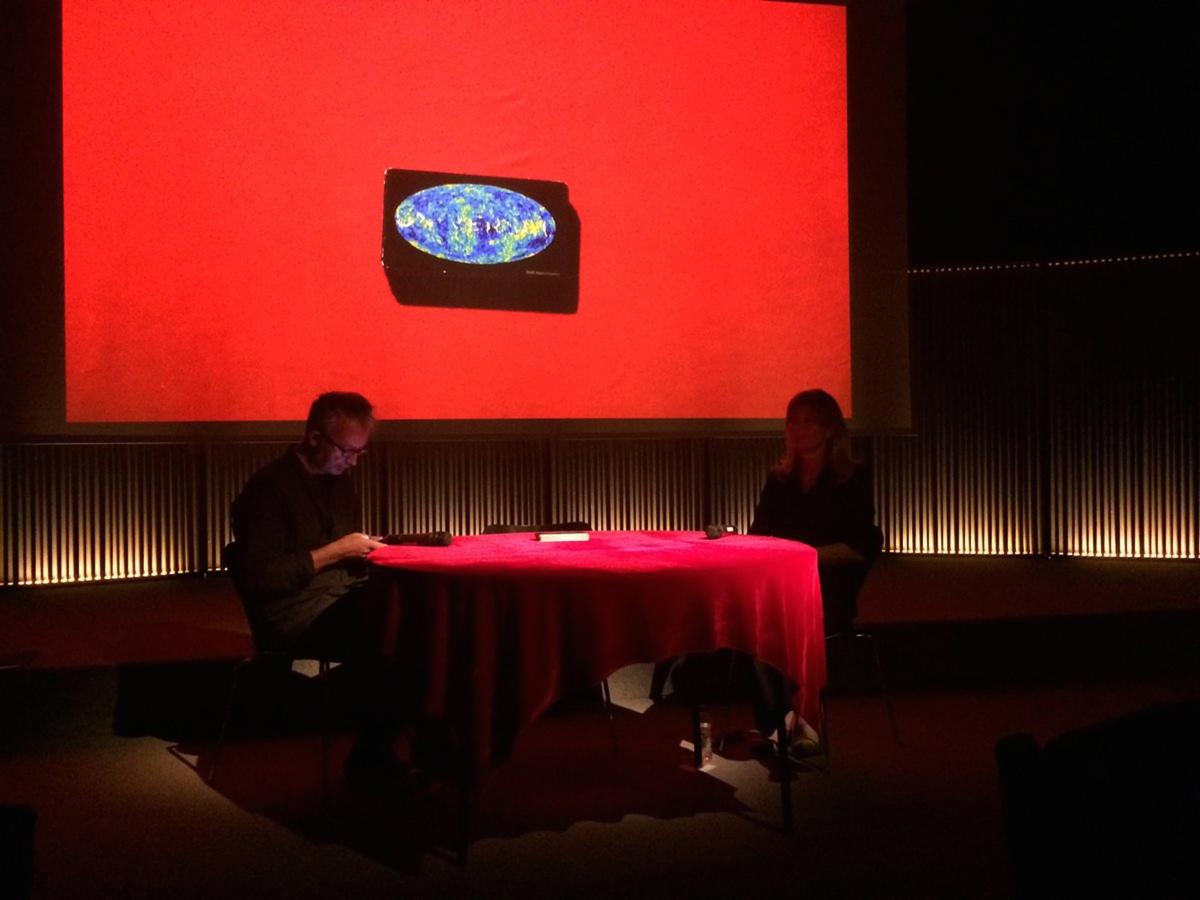 Silvia Maglioni & Graeme Thomson, Dark Matter Cinema Tarot, Nocturnal Committee au MACBA Barcelone, 2017
In the context of the Silvia Maglioni and Graeme Thomson solo show Circumference of the (Common) Birds, a new Nocturnal Committee at Les Laboratoires d'Aubervilliers for a special DMC Tarot collective reading.
The Dark Matter Cinema Tarot is a vernacular technology, a tool for collectively exploring ways in which cinema images can open up new channels of infra-perception connecting different realms of personal, aesthetic, social and political experience and enquiry, reaching towards the dark matter that haunts the 'still moving' image. In conceiving the DMC Tarot, Silvia Maglioni & Graeme Thomson have replaced the Major and Minor Arcana with a selection of still images drawn from cinematic memory. No longer tied to the symbolism of the classical tarot, the DMC cards, suspended between contingency and fatality, refract questions posed to them through a process of speculative description and collective fabulation, with each reading forming a singular montage of gestures, situations and relations.
For the occasion, this collective reading at Les Laboratoires d' Aubervilliers will be done with the complicity of Leire Vergara (Independent curator, member of Bulegoa z/b, Tutor of the study group "Curating Positions" at DAI - Dutch Art Institute) and preceded by an intervention by Basque artist Jon Mikel Euba.
The collective reading will be followed by the launch of a limited edition of the cards.
-----------
Free entrance on reservation
at reservation@leslaboratoires.org or 01 53 56 15 90
-----------
Leire Vergara is an independent curator and researcher and member of Bulegoa z/b, an office for art & knowledge based in Bilbao. She has curated several public programmes and exhibitions such as The Recurring Images MACBA, Barcelona (with Pablo Martínez), The Papers of Exhibition (1977-2017) (2019-2016) Azkuna Zentroa, Bilbao (with Beatriz Cavia, Isabel de Naverán and Miren Jaio), Black or White Screen: The Power of Seeing Images Together CA2M, Madrid (2016), Dispositifs of Touching: Curatorial Imagination in the Time of Expanded Borders Trankat, Tétouan (2015), EL CONTRATO Azkuna Zentroa, Bilbao (with Beatriz Cavia, Isabel de Naverán and Miren Jaio) (2015-2013), Form and Meaning Musac, León (2014-2012), Materiality (with Ines Moreira, Arne Hendriks and Aneta Szylak) Alternativa Wyspa Institute, Gdanks (2012). She worked as chief curator at Sala Rekalde, Bilbao (2009-2006) and as co-director of D.A.E. (with Peio Aguirre) Donostia-San Sebastián (2005-2002). She has contributed as writer in art and cultural magazines, catalogues and artists' books. She teaches together with Emily Pethick and Marwa Arsenios the course Curating Positions: Practising Organisation Under Present Conditions at the Dutch Art Institute, Arnhem. She is a PhD candidate of Curatorial/Knowledge at Visual Cultures Department of Goldsmisths College, University of London.
Jon Mikel Euba (Amorebieta, 1967) is an artist based in Bilbao. His work is grounded in drawing, as a procedure, and sculpture, as a program resolved in diverse media. Since the late 90s, he completed a number of residencies in Arteleku, San Sebastián, (1994-1995), Künstlerhaus Bethanien in Berlin (2000-2001), Re:location Academy in Luxembourg (2004), Platform Garanti in Istanbul (2005) and Vrije Ruimten Zuidas in Amsterdam (2008), where he developed a particular system of production through an 'economical technique' which has guided his practice since. This search, which he also considers a form of resistance, requires processes that involve other people, in which Euba plays the role of a mediator or filter. From 2006 on, continuing his performative work in other media, he developed a series of performances whose result condensed in the Re:horse series at MUSAC in León (2006), Flacc in Genk (2006), Festival a/d Werf in Utrecht, De Appel (Lecture on Re: horse) (2008), in Stedelijk Museum Bureau Amsterdam (2009) in Amsterdam, Project Arts Centre in Dublin (2009) El Farol Auditorium in Valparaiso (2010), and in Transcoding Re: horse at the Van Abbemuseum, Eindhoven (2010), for which he developed a didactic approach for different participants with whom he collaborates. In 2010 he, Txomin Badiola and Sergio Prego devised the experimental pedagogical project "Primer Proforma 2010. 30 Exercises, 40 days, 8 hours a day". In 2015 together with Itziar Okariz, Asier Mendizabal and Sergio Prego carried out the school project Kalostra in San Sebastian. He has been director of the Master Action Unites, Words Divide (On Praxis, An Unstated Theory) II in the Dutch Art Institute in Arnhem during three years. In 2017, he published Writing Out Loud that brings together the transcriptions of eight lectures created by Euba during the course Action Unites, Words Divide (On Praxis, An Unstated Theory) at the Dutch Art Institute across the academic year 2014 – 2015. The resulting texts sit within a larger writing-centred project by the artist, which he has been pursuing for almost a decade, with the aim of defining a form of praxis that could evolve into a technical theory.
http://dutchartinstitute.eu/page/6012/jon-mikel-euba