Programme satellite
cinéma
recherche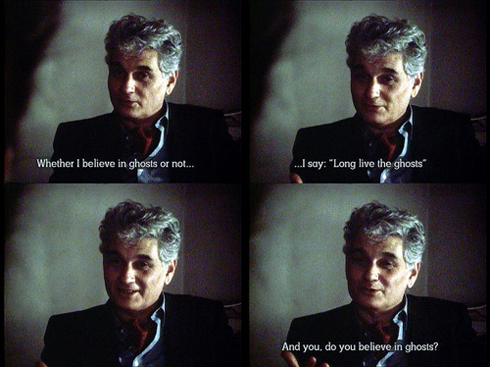 Artists, filmmakers and teachers are trying to develop a network which aims to use cinema as a model and a method for research in art. This resulted in the « Ghost Dance » project. Using the figure of the ghost, as interpreted by Jacques Derrida in Ken McMullen's movie, the idea is to reinvent the form of the symposium by calling into question the types of collective exchanges, ways of thinking about cinema and the issue of writing in its relation to orality. These two days offer a workshop for reflection and a space for open communication, foreshadowing the creation of a 3rd  degree in art school devoted to film practices.
This project is currently led by theorists, artists and filmmakers who work in art schools:
Judith Abensour, Thomas Bauer et Maria Le Doare (ESBA TALM), Leo Bizeul, Charlotte Cherici, Alain Della Negra and Jérôme Thomas (HEAR), Sylvie Boulanger (CNEAI), Erik Bullot (ENSA Bourges), Jonathan Calvié et Jean-Marc Chapoulie (ESAAA), Maïder Fortuné (ESBAN), Clarisse Hanh (ENSAD), Florence Lazar, Anne Marchal, François Nouguiès, Yaël Perlman and Cyrielle Perminjat  (ESAD Grenoble / Valence), Pierre Frulloni, Alex Pou and Camille Varenne (Esacm), Alexelle Rossini, Iann Simms and Serge le Squer (ESATPM), Marie Voignier (ENSBA Lyon), Hugo Brégeau, Louis Henderson, Jaoa Vieira Torres and Stephen Wright (EESI).
Ghost Dance, film by Ken McMullen with Jacques Derrida, 1983