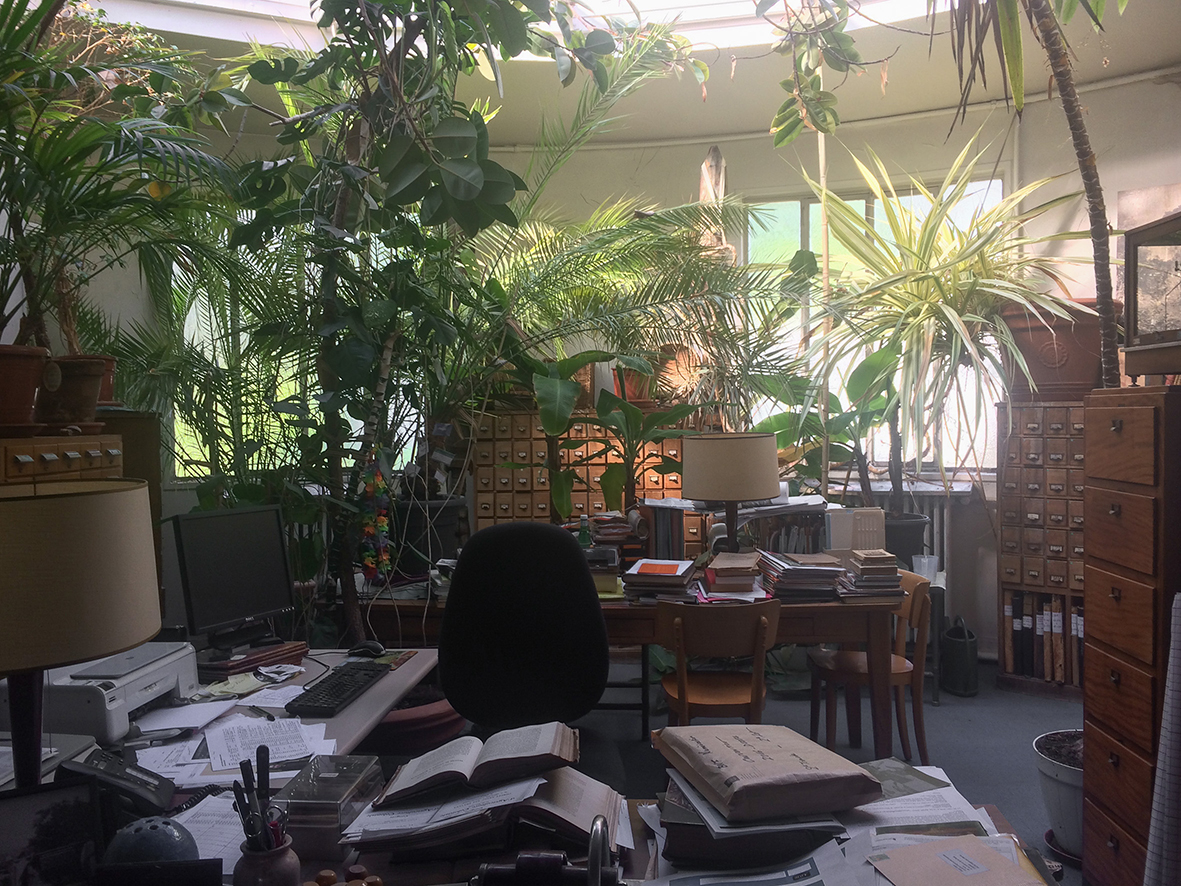 Bibliothèque du jardin d'agronomie tropicale in Vincennes, 2017
__ tous droits réservés
Swiss artist based in London and Lisbon, Uriel Orlow is invited by Les Laboratoires d'Aubervilliers to develop a new artistic project during a research and production residency.
His research looks to the botanical world as a stage for politics. The artist considers plants as both witnesses and actors in history, and as dynamic agents  across different geographies, histories and systems of knowledge.
As part of his residency at Les Laboratoires d'Aubervilliers, Uriel Orlow wishes to unfold his research within the local context of Aubervilliers, by exploring the story of the « Plaine des Vertus » - the "Virtuous Lowland" an area of Aubervilliers well known in the 19th century for the quality of its agricultural production – through its historic and contemporary agricultural practices.
This research will be presented at Les Laboratoires d'Aubervilliers in different forms. A symposium on two days will take place Saturday 12th and Saturday 19th May 2018, opening the research process to the audience. For these two sessions, Uriel Orlow will invit specialists with whom he exchanged during the research phase, to present their work, creating a dialogue between them. In Autumn 2018, an exhibition concluding Uriel Orlow's residency project Affinités des sol . Soil Affinites will open at Les Laboratoires d'Aubervilliers, presenting new video work.
In the specific context of Aubervilliers and through the prism of the economic thinking of plants, Uriel Orlow aims to developp his research on two scales, local and international.
The artist will focus on the garden production period going from the end of the 19th century and the begining of the 20th century. At the time, Aubervilliers was a rural area providing Parisians with various sorts of vegetables. The  « Plaine des Vertus » covered a large area to the north of the capital, composed of small villages and vast agricultural crops. It was during this period that the industrialisation of the Parisian suburbs began. This moment of transition coincides with the 1885 Berlin Conference which resulted in the displacement of part of the European agricultural production to Africa. The colonial plantation system – European agriculture organised on colonised territories – can be seen as the first step towards the conception of plants as economic and political agents. The specalities which were cultivated in Aubervilliers at the turn of the 19th and 20th centuries are nowadays produced in Senegal or Mali.
Also taking a local slant, Orlow will be looking into the provenance and consumption of the fruit and vegetables bought and sold in Aubervilliers, particularly in the numerous Chinese, North African, Indian and sub-Saharan grocery shops of the city. Using this approach, Uriel Orlow aims to map migration flows as they meet and cross in Aubervilliers, and to demonstrate the political significance of the movement, transport and circulation of the fruits and vegetables consummed.
_____________________
This project is supported by the Département de la Seine-Saint-Denis « aide à la résidence arts visuels », by Fluxus and by Pro Helvetia, Swiss Foundation for culture